Surround Sound Systems Bridgewater NJ
Local resource for surround sound systems in Bridgewater. Includes detailed information on local businesses that provide access to home theater components and speakers, as well as advice and content on audio systems.
---
Best Buy
300 Commons Way
Bridgewater, NJ
Electronics Expo
(908) 725-6837
401 State Hwy 28
Raritan, NJ
Bravo AV Consulting
(908) 304-0555
The Mall at Far HillsP. O. Box 633
Far Hills, NJ
Services
Acoustical Design, Audio / Video, Home Theater, Multi-Room Audio, Multi-Room Video
Brands
Pioneer, Rives, Sonance, Triad, Talon Integra, Parasound, Halo, Sherbourn, Halcro Audio Control, Request Multimedia, Fujitsu, Sharp, Vidikron, Sim2, DaLite, Stewart Furman, Niles, Acoustic Innovations, Synergistic Research, Tributaries.
Certifications
One or more employees at this company have achieved CEDIA Professional Certification status:- Daniel Catala, CEDIA Certified Professional EST II- Tom Curnin, CEDIA Certified Professional Designer


P.C. Richards
(908) 222-7200
1515 Rt. 22W
Watchung, NJ
Electronics Design Group Inc.
(732) 650-9800
60 Ethel RoadSuite #5
Piscataway, NJ
Services
Home Audio, Design & Installation, Appointment Only


Bose Showcase Store
(908) 707-4323
Bridgewater Commons,400 Commons Way
Bridgewater, NJ
P. C. Richard & Son
(908) 218-7800
501 State Route 28
Raritan, NJ
Audio Cafe
(908) 904-1727
926 Route 206
Hillsborough, NJ
Services
Home Automation / Systems Integration / Home Networking, Home Theater, Lighting Control, Multi-Room Audio, Security / Access Control / Surveillance / Gate Access
Brands
Authorized for LG, Crestron, Yamaha, Parasound, Elan, UStec, Draper, Atlantic Technolgy, Faroudja, Hunter Douglass, AudioPlex, Peerless, Pioneer, Mitsubishi and many more
Certifications
One or more employees at this company have achieved CEDIA Professional Certification status:- Mike Dudzinski, CEDIA Certified Professional EST III (Advanced EST), CEDIA Certified Professional EST II


Electronics Design Group
(732) 947-5543
60 Ethel Road Suite 5
Piscataway, NJ
Sound System, The
(732) 821-7822
3201 State Highway 27
Franklin Park, NJ
Services
Audio / Video, Furnishings, Home Theater, Multi-Room Audio, Satellite
Brands
Marantz, Sony ES, Pioneer Elite, JSP, Laurier, JVC, Integra, Onkyo, Lovan, Powel, Boltz, Seleco, SIM2, Bello'', Monster, MIT, Jamo, Energy, Infinity, Warfdale, Niles, Toshiba, Loewe, Studio tech, Elite, Cinematech seating
Certifications
One or more employees at this company have achieved CEDIA Professional Certification status:- Michael Schumacher, CEDIA Certified Professional Installer I, CEDIA Certified Professional EST III (Advanced EST), CEDIA Certified Professional EST II


Dali Phantom In-wall Loudspeakers
dali
Helicon IWS 3 Phantom in-wall loudspeakers
as reviewed by Ed Morawski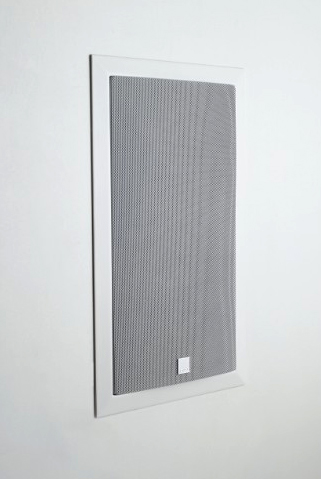 When I built my current home in 1998, I planned for a home theater, and prewired for surround speakers. Although I'm sure that in-wall speakers were available at that time, I wasn't aware of any, so I just installed jacks and use bookshelf speakers for the surrounds. Now, of course, there are dozens, if not hundreds of in-wall speakers to choose from. These new ones from the Danish high-end speaker manufacturer DALI are most interesting. When I unpacked the Helicon Phantoms, I immediately recognized that they were high-quality components. They are weighty, and very well made. All of the drivers are custom-made for DALI by Scan-Speak.
Among the Phantoms' impressive features are the sturdy "dogging" fasteners that lock them into the wall. When you insert the speaker into the cutout, you employ a supplied allen wrench to give them a half turn, rotating them 90 degrees behind your wallboard. As you continue to tighten, the arms lock down in the perpendicular position and begin tightening against the wallboard. This makes the blind installation foolproof, and should ensure a long lasting, tight seal. There is also an eyebolt that allows the installer to connect a safety cable when mounting the units in the ceiling, so that if they ever slip out, they are prevented from dropping on someone.
Another nice feature is DALI's inclusion of plastic protective covers that fit over the drivers so that the installer can spray paint the frames to match your décor. A heavy cardboard cutting template is also in the box, and this too is well thought out. Even the binding posts are very strong, yet easy to use. They are gold plated and spring loaded, and take any gauge wire or banana plugs. The spring ensures a very tight connection for a long, long time. I really appreciate such attention to detail from a manufacturer.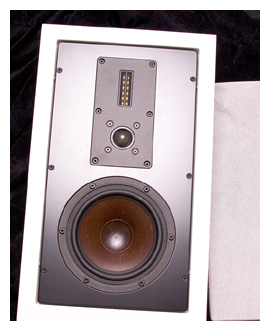 I was anxious to hear these gems, but it was apparent that giving them a fair audition was going to be challenging. Although the speakers are sealed within plastic enclosures, there was no way to place them on stands, as the bottoms are too shallow to be supported. I certainly wasn't going to cut holes in my walls, so I struggled to come up with a plan. I ended up sitting a pair on the floor and propping them up just to get an idea of how they sounded. Although they weren't bad, the sound was distinctly hollow and there was very little bass. Ben Gosvig, DALI's sales manager, had already warned me to use a subwoofer, so I was prepared for the weak bass. According to Ben, virtually all manufacturers engineer bass humps into their in-wall speakers, making them louder at low frequencies. The downside is that phase coherence is damaged, compromising the speakers' capacity to create soundstage and focus. In order to attain correct phase alignment, DALI's engineers elected not to employ a bass ...
Morel 5.1 Vitra Home Theatre System
POSITIVE FEEDBACK ONLINE - ISSUE 9

morel
5.1 Vitra Home Theatre System
as reviewed by Roger S. Gordon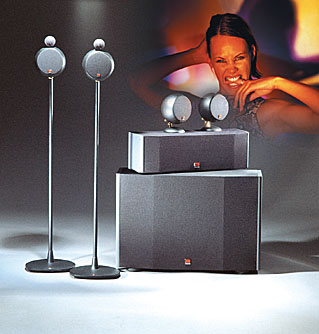 Most audiophiles would love to have a killer surround-sound system. For those with unlimited budgets, this is not a problem, but for the rest of us, having a home theater system in addition to our main stereo system can be a budget buster. There is the option of the Home-Theater-in-a-Box, with a surround processor/amp, five plastic speakers, and a dinky subwoofer for $300 or less. I have such a system (a Creative Labs/Cambridge Soundworks 5.1) in my office. Using a Radio Shack portable CD player as input, the music is enjoyable, but not what I would call high end. At the other end of the scale, there are high end theater systems that cost tens of thousands of dollars. Is there anything toward the lower end of the scale that delivers something better than mid-fi sound for less than $2000?
Aside from being less than $2000, my home theater system also had to be compact in size, and the speakers had to be mountable either on the walls or on the home entertainment unit that covers one of the 12-foot walls in my 12 x 20-foot room. This requirement is dictated by the fact that my theater room is not a dedicated room. It has to serve as a guest bedroom several times a year, and as a second dining room when our church group comes over for potluck dinners. Now, having a small room usually means spending less, but a small room is usually not good for the Big Sound required by cinematic earthquakes, volcanic eruptions, and nuclear explosions.
Thinking about possible solutions, I remembered hearing the Anthony Gallo Acoustic speakers, which consist of 4-inch globes atop thin pipes that serve as stands, plus a subwoofer hidden in the corner. I had heard them at CES a few years ago, and had been quite impressed with the quality of sound for a very affordable price. The spherical shape of the speaker enclosures didn't worry me, though it is very different from conventional box speakers. I once attended a lecture by Bill Firebaugh of Well-Tempered Turntable fame, in which he showed his prototype of a large spherical loudspeaker that never made it into production. I remembered all of the advantages Mr. Firebaugh claimed for a spherical speaker enclosure, which included: (1) rigidity with no internal bracing (more volume to let the bass notes develop), (2) no internal standing waves, as there are no parallel surfaces, (3) ease of manufacturing (and lower cost), and (4) no refractions off the front face. However, I could not find a local source for the Gallo globes.
While I was pondering my next move, a friend who is heavily into home theater suggested I consider Morel speakers, as they also make a home theater system that utilizes 5-inch globe-shaped speakers. I had never heard of Morel, so after logging onto the web for a little research, I discovered that the company is a well-known manufacturer of...