Sound Equipment Davis CA
Local resource for sound equipment in Davis. Includes detailed information on local businesses that provide access to audio equipment and sound accessories, as well as advice and content on audio technology.
---
Fry\'s Electronics - Sacramento
(916) 286-5800
4100 Northgate Blvd
Sacramento, CA
Best Buy
1901 Arden Way
Sacramento, CA
Paradyme
(916) 971-3600
1732 Fulton Avenue
Sacramento, CA
Best Buy
9131 W Stockton Blvd
Elk Grove, CA
Second Street Music
(530) 758-4010
615 2Nd St
Davis, CA
Types of Instruments Sold
Digital Piano, Electronic Keyboard, Organs, Band & Orchestral, Drums & Percussion, Sound Reinforcement, Guitars & Fretted Instruments, Print Music
Data Provided By:
Best Buy
3690 N Freeway Blvd
Sacramento, CA
Pacific Auto
(916) 971-0830
3023 Arden Way
Sacramento, CA
Sams Club
(916) 688-2126
8250 Power Inn Road
Sacramento, CA
Recycling Services
Recycle Ink - No landfill guarantee


RDM Audio Visual Rentals
(530) 668-9400
527 Main Street
Woodland, CA
Services
PA Systems, Projectors, Screens, Microphones, Karaoke Party Packages, Lighting Packages
Prices and/or Promotions
Mention you saw us on nSphere for a special discount!


Watermelon Music Inc
(530) 758-4010
207 E St
Davis, CA
Types of Instruments Sold
Digital Piano, Electronic Keyboard, Band & Orchestral, Drums & Percussion, Sound Reinforcement, Recording Equipment, Guitars & Fretted Instruments, Print Music
Store Information
Instrument Rental: Yes
Website Sales: Yes
Lesson Information
Lessons: Yes
Clinics: Yes
Instrument Repair Information
Offers in-house or off-site repairs for:
Orchestral instruments, Brass & Woodwind instruments, Fretted instruments, Amplifiers and Electronics.
Offers warranty service for FMIC Brands (Fender, Squier, Guild, Gretsch and SWR), and for Kustom Amplifiers.
Data Provided By:
Data Provided By:
Grand Prix Audio Formula Shelf
grand prix audio
Formula Shelf and Apex Footers
as reviewed by Greg Weaver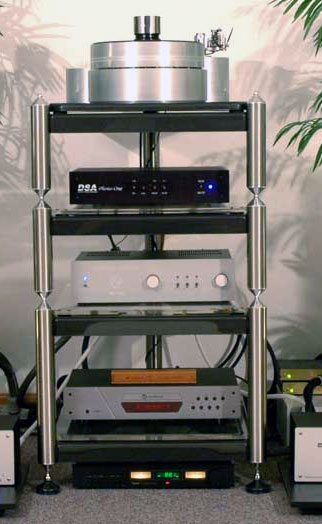 It has been nearly three years since I reviewed the superlative and, to these ears, unsurpassed, Grand Prix Audio Monaco Modular Isolation system. Since that time, I have gradually been able to improve upon its original spectacular effectiveness, one-step at a time.
The first improvement came when I was asked to review the Redpoint Model D turntable. Alvin Lloyd was kind enough to send me a Formula Shelf to evaluate in its roll supporting the 135-pound behemoth music maker from Peter Clark. Even though the three-quarters of an inch thick clear acrylic top shelf of my original system would have been adequate to support the weight of the Model D, it somehow seemed the appropriate opportunity to make the move to the cost-no-object, unique cellular structure and cross-linked resin system Formula shelf.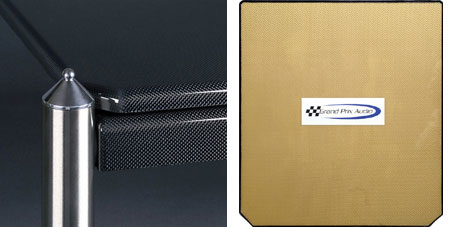 The distinctive core material used in the GPA Formula Shelf was developed originally for nuclear facilities, aerospace, and aviation isolation applications. The distinctive looking carbon fiber shell, combined with this proprietary core, exhibits a high strength to weight ratio, and provides substantial resistance to the transmission of vibration across a broad frequency range.
To stop at calling the GPA Formula Shelf merely effective would be like proclaiming the Arctic Circle can get "chilly" in winter. Replacing the clear acrylic top shelf under the Model D, the formula shelf's impact and contribution was more significant than I could have imagined, even given my previous experience with all things GPA. I was afforded even more space than previously, in all three dimensions, as well as more accurate sizing and more clearly defined localization of instruments. The original velvety black quietness became even quieter! The overall background calm established from which the music emanates was even darker with the formula shelf in place... I sent my check!
Interestingly, at the same time he had sent the Formula Shelf, he included a set of the Apex footers. Each of the three just under an inch and a half tall Apex footers is fabricated from two hand-laminated, high-pressure vacuum-cured layers of Carbon fiber. Those two layers, both the outer skin and the core/base of the device, are decoupled via a proprietary damping polymer.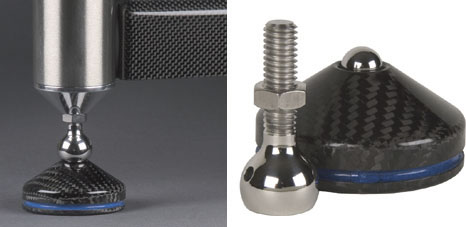 The super-dense polymer (also used in the upright columns of their Monaco SE) separating the core/base segment of the Apex from its outer skin was developed in collaboration with one of their former racing aerospace partners. Alvin claims that it exhibits a far higher energy dissipation ratio than any of the metals or compounds commonly used for other component isolation footers, and is just one of many claimed technological advances Grand Prix Audio enjoys over its competition.
By presenting three dissimilar materials boundaries to the e...