Pro Audio Bel Air MD
Local resource for pro audio equipment in Bel Air. Includes detailed information on local businesses that provide access to audio equipment and sound devices, as well as advice and content on pro audio accessories and operation.
---
H.H. Gregg
680 Marketplace Dr.
Bel Air, MD
Silver Screen & Sound, Inc.
(410) 296-0202
9810 Colenbourne Rd
Perry Hall, MD
Services
Acoustical Design, Audio / Video, Furnishings, Home Theater, Lighting Control, Motorized Window Treatments / Home Theater Curtains, Multi-Room Audio, Multi-Room Controls, Multi-Room Video, Home Automation / Systems Integration, Home Networking, iPhone / iPad integration
Brands
Elan, Marantz, Lexicon, NHT, Snell Acoustics, Monster, Hitachi, LiteTouch, Sharp, RBH, Pioneer, Samsung, Panasonic, Niles, Panamax, JVC, Middle Atlantic, DA-Lite, Draper, Premiere HTS
Certifications
One or more employees at this company have achieved CEDIA Professional Certification status:- Todd Abbey, CEDIA Certified Professional EST II


Acres Automotive Inc.
(410) 688-8900
2207 E. Joppa Road
Parkville, MD
H.H. Gregg
801 Goucher Blvd.
Towson, MD
Lee Hartman & Sons
(800) 344-1832
8827 Kelso Drive
Baltimore, MD
Best Buy
602 Boulton St
Bel Air, MD
Best Buy
5200 Campbell Blvd
Nottingham, MD
Best Buy
8645 Pulaski Hwy
Rosedale, MD
Bose Showcase Store
(410) 494-6947
Towson Town Center,825 Dulaney Valley Road
Towson, MD
Best Buy
(410) 527-7561
118 Shawan Road Suite W
Hunt Valley, MD
Ten Questions about Computer Audio with Kent Poon of Design w Sound
Ten Questions about Computer Audio with Kent Poon of Design w Sound
Computer Audio has become the new rage in audio and for good reason: one has an easy and instant access to all their music as well the ability to search out countless other titles via the internet.  The issue is simply where to start, though the answer is quite obvious: get a computer, rip and store the files, and then play them back to some DAC. Of course being audiophiles …err the nuts we are… the questions start to pile up rather quickly.
Mac or PC, and then once you got that settled, there is all the minutiae related to just setting-up that computer's OS and configuration. Then comes how best to rip and how best to save the files, and then to where? Okay, so now that I have my files, how best to play them back and how best to get the files out of the computer and to what DAC? Yadda, yadda, yadda… each question leads to further questions to clarify the previous that then lead to other questions that suggests another question and …a downward spiral down into the rabbit hole we go.
So I went to the 2009 CES and found not only a wealth of information, but a wealth of confusion or at the very least, a wealth of disagreement among those that are either in the recording/software side, the hardware-side, and/or the "expert" sides of computer audio. Now CES is not the best place to get all the answers… time is an issue as is finding all the people to ask, so I came up with 10 'key" questions (these are my 10, you may have others or perhaps might not find these of any benefit to you, but I chose them because they are of interest to me and besides they reflect the most common or important areas that seem to pop-up whenever one talks about computer-based audio, so go pound silicon if they don't work for you.) and emailed them to 12 people in the industry to answer. Their responses are here...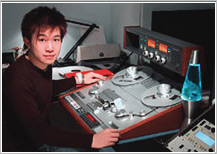 1. Let's start with interfaces; the obvious choices are USB, Firewire, Optical, and S/PDIF. What is your opinion on any of these interfaces? What if any, are the advantages or disadvantages of one over the others in terms of resolution, jitter, etc.?
These are all digital interfaces. From a technical perspective, they should perform the same since they carry the exactly same binary digital data. From an audiophile jitter perspective Toslink/Optical is worse than AES/S/PDIF because of the electric to optical conversion. USB and Firewire are mostly computer interfaces. Firewire has been used in professional audio and video industry a very long time for obvious reasons. Although I don't deny USB can also work as good for stereo 24/96 or even 24/192 if you know the technique, since firewire can easily work for 24 channels at 24/192, well that is clearly my choice.
2. With regards to software there are also strong opinions as to some being vastly superior (or for that matter, inferior) to others; people clearly hear differences in...