Home Theater Systems Silver Spring MD
Local resource for home theater systems in Silver Spring. Includes detailed information on local businesses that provide access to home electronics and audio equipment, as well as advice and content on surround sound.
---
Magnolia Home Theater
(301) 942-1877
10901 GEORGIA AVE
Wheaton, MD
Belmont TV
(301) 942-1300
12500 Layhill Road
Wheaton, MD
J.S. Audio
(301) 656-7020
4919 St. Elmo Avenue
Bethesda, MD
Magnolia Home Theater
(301) 984-1479
1200 ROCKVILLE PIKE
Rockville, MD
Home Technology Architects
301-5620-0454
5510 Wilkings Court Home Technology Architects
Rockville, MD
SoundWorks
(301) 929-8600
10518 Connecticut Avenue
Kensington, MD
Electronic Center
(301) 434-8444
7959 New Hampshire Avenue
Hyattsville, MD
Electronic Service Center
(301) 881-8637
Suite #112 12216 Parklawn Drive
Rockville, MD
Best Buy
(301) 984-1479
1200 ROCKVILLE PIKE
Rockville, MD
All Around Technology
(301) 770-1700
4937 Wyaconda Road
Rockville, MD
Services
Audio / Video, Home Automation / Systems Integration / Home Networking, Home Theater, Lighting Control, Multi-Room Audio
Brands
Sonance, Triad, James Speakers, Revel, Boston Acoustics, Linn, Crestron, AMX, Universal Remotes, Lutron, LiteTouch, CinemaTech, Stewart, Runco, Sony, LG, Pioneer, Samsung, Panasonic, Chief, Omnimount, Middle Atlantic, Denon, Integra, Yamaha
Certifications
One or more employees at this company have achieved CEDIA Professional Certification status:- Alex Beelke, CEDIA Certified Professional EST II- Cameron Bolling, CEDIA Certified Professional EST II- Anthony Elhard, CEDIA Certified Professional EST III (Advanced EST), CEDIA Certified Professional EST II- Peter Elliott, CEDIA Certified Professional EST II- James Finnerty, CEDIA Certified Professional EST II- Timothy Hatfield, CEDIA Certified Professional EST II- James McWilliams, CEDIA Certified Pr


Nola MINI Loudspeakers

nola
The MINI Loudspeakers, plus some audio musings on a home theater setup
as reviewed by Karl Lozier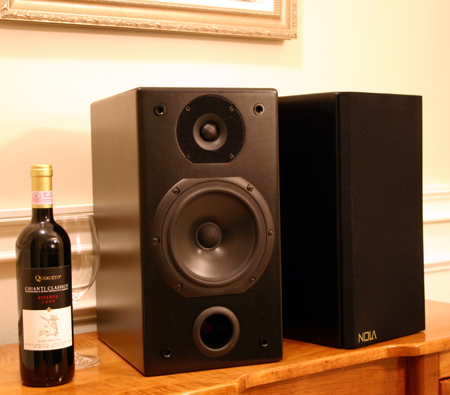 KARL LOZIER'S SYSTEM
LOUDSPEAKERS
Genesis V (the original) with 4 servo controlled subwoofers per side.
ELECTRONICS
Herron (all) Phono step-up (tubed) model VTPH-1MM, stereo preamplifier (tubed) model VTSP-1A and a pair of (solid state) model M-150 amplifiers.
SOURCES
VPI-MKll mounted with a SME IV tonearm and the Grado Reference cartridge. The Cary 306/200 CD/HDCD player on Bright Star Audio Isorock 3 isolation platform, and a Heart tubed CD player (modified Marantz 6000 OSE) on Isorock platform and Isonode feet.
CABLES
Preamplifier to power amplifiers is usually Kimber Select series (or Herron Special) other inputs are Kimber Selects and KCAG, or Harmonic Technology Pro Silway MkII.. AC power cords are Kimber PK-10 Palladian and Purist Audio Dominus. 
ACCESSORIES
Isonodes, SSC pucks, Iso-Blocks and Denon CDR-W1500 CD/HDCD player/recorder. Front-end components fed by PS Audio model 300 Power Plant, Nitty-Gritty vinyl record cleaning machine.
Accent Speakers Technology Limited is not a newcomer to the audio world. Its designs are by industry veteran Carl Marchisotto. In the past few years, starting with the state-of-the-art Exotica Grand Reference at well over a hundred thousand dollars per pair (done for Alon, his previous company), Marchisotto has been modifying and tweaking many of his earlier designs.
Marchisotto's new MINI model has evolved, at least in part, from previous designs. Changes do not include tampering with its well-known (and excellent) 6 1/2-inch bass/midrange driver, but include a new and noticeably improved 1-inch silk dome tweeter with excellent transients and response beyond 20kHz. Response is claimed to be extremely linear through the all-important midrange. Overall response is plus or minus 2dB over the 60Hz-20kHz range, and down another 5dB at 55Hz.
Previous designs incorporated crossover improvements, but the new Mini elevates Marchisotto's design so much further that it actually constitutes a new design. The entire topology is changed, not just the quality or type of parts. The new crossover topology results in improved bass reproduction. "Improved" does not mean more bass, but better, clearer, and more dynamic bass. Music lovers new to the audiophile hobby quickly discover the distinction between more bass and better bass, though some lose track of the difference.
Topping off the improvements in the MINI is a new cabinet construction that improves the speaker's overall sound quality. Marchisotto is particularly pleased with its impact. The new cabinet has rounded edges and corners, and its black finish seems to be very tough and durable. It is not a wood finish, nor is it a gloss finish that might show finger smudges—consider it to be between semi- gloss and matte, with an easily rem...
The Higher End: The Clarks' Brutus Awards for 2004
The Higher End: The Clarks' Brutus Awards for 2004
by Dave and Carol Clark
Well… we have spent the past year being very picky about what we wanted to review or listen to as our time is just not what it used to be—work, family, and PFO have all taken a big chunk out of our time and as it now stands, reviewing gear is rather low on our list of things we just have to do!
Even so, we have had a few products come through our home that turned our heads and as such are clear choices for the our 2004 Brutus Awards.
We will admit that while David has a way more comprehensive approach to choosing his award recipients, we see things as being a bit simpler in terms of categories and such—meaning electronics, speakers, and simply the other odds and ends.
Electronics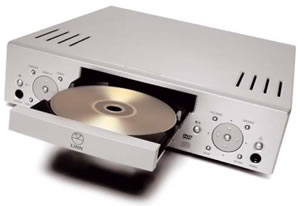 LINN Classic Movie Di
A clearly superior all-in-one home theater unit (CD player, AM/FM tuner and 5 channel amplifier with full surround sound abilities) to anything else out there (throw in the majority of separate boxes as well), the Di is sooooo much fun and amazing in its abilities to reproduce movies (DVD) and play back CDs (Redbook), that having a stack of separate components each chosen for its audio idiosyncrasy is sheer lunacy. Easy, simple, elegant, musical, and fun—not much else to say, except that the Di is the best we have used and is not leaving this home. Watch for a full review in December.
Speakers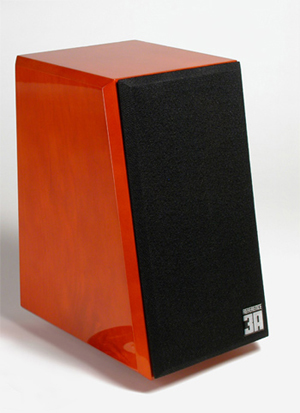 Reference 3A Dulcets
Not reviewed by Carol nor myself, but we did have them here and well, an amazing sound in an oh-so-small box. For the person who wants really, really big sound in something that looks like fine furniture at IKEA prices, this is the way to go. Not perfect, but what speaker is, that is not much larger than a lunch pail for toddlers? (see http://www.positive-feedback.com/Issue15/dulcet.htm for more.)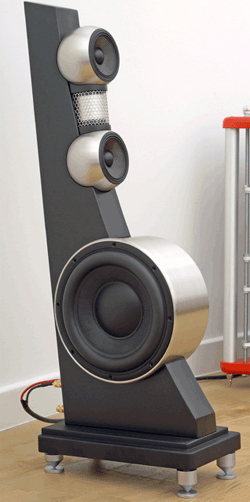 Gallo Reference 3
Now this is a really cool speaker as well, and while considerably larger and twice the price of the Dulcets, it brings just as wide a grin as anything else that we have heard this year. Way bang for the buck with looks and performance that is leaps ahead of speakers costing several times their price (Danny Kaey has them is quite smitten—another review to follow soon). Again not perfect ( http://www.positive-feedback.com/Issue16/galloref3.htm ), but again what is? Though with a visual statement that is more a work of modern art, who really cares?! An amazing speaker from someone who has been making just that since their beginning—Anthony Gallo.
Others
Walker Audio SST
All the reports are true—a simple and effective way to raise your system's performance several notches without breaking the bank. Heck, for little more than a few dinners one can see the light at the end of the tunnel! David offers a lot more on this in his awards, and you can read more at http://www.positive-feedback.com/Issue13/walkeraudiosst.htm .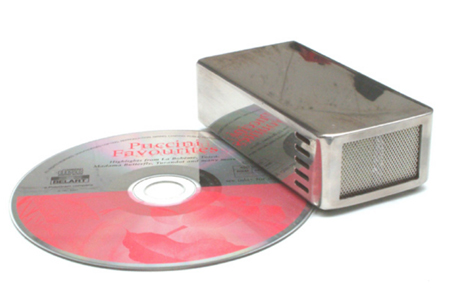 ...